Curious to see where your industry ranks in terms of digital ad spend? eMarketer has released its digital ad spending report for 2019, and we've rounded up the results below along with some case studies of our own to highlight how these verticals are making the most of their digital expenditures.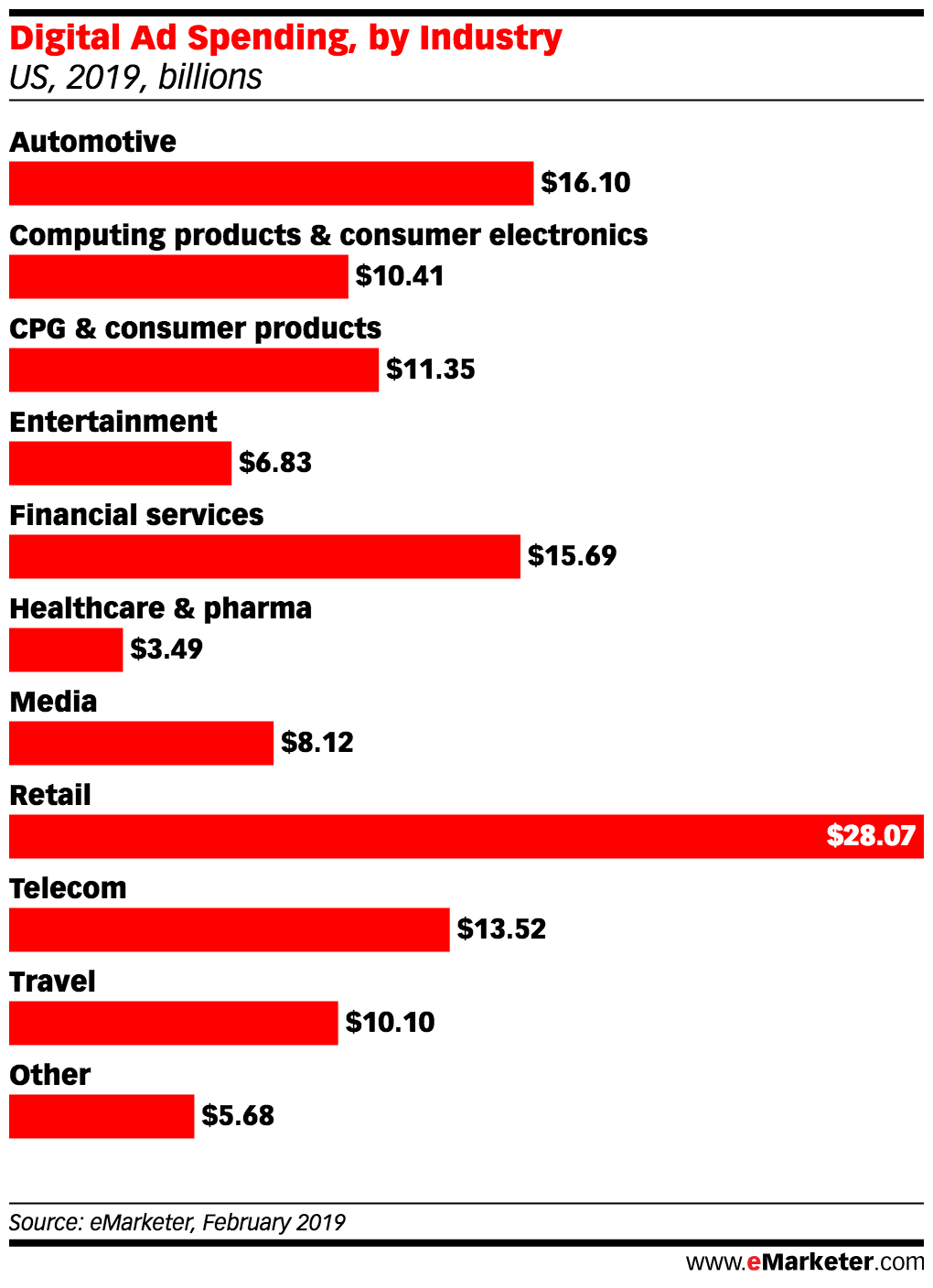 According to eMarketer, retail is far and away the largest investor in digital advertising. At $28.07B for 2019, retailers will shell out nearly double the next biggest spender.
Second to retail is the automotive industry, projected to spend $16.10B in digital ads in 2019. Savvy automotive advertisers are jumping on digital's data advantage, using MarTech platforms like Axon to aggregate online and offline data points. The result is more robust customer profiling even across auto's complex purchase lifecycle.
For example, check out this automotive digital strategy analysis to see how one dealer used unique audience insight including bottom-funnel engagement activity (such as requesting a quote online), lease renewal timing information and in-store visit data to build refined audience segments. The dealer was then able to execute highly targeted campaigns across paid search, email marketing, paid social and cross-platform display, resulting in an 81% customer retention rate and a 27% increase in new customer acquisition.
After automotive, financial services and telecom round out the middle of the pack for digital ad spend at $15.59B and $13.5B, respectively. Spend for CPG and consumer products will hit $11.35B in 2019, and will continue to increase as the industry makes the most of precisely-timed, custom digital campaigns that drive high-volume conversions at scale. See how we worked with this national convenience store brand on a digital strategy involving static and rich media placements on mobile, tablet and desktop to produce $4.5 million in revenue and a staggering 43.75X ROAS.
Just above $10B in digital ad spend are computing products and consumer electronics at $10.41B and travel at $10.10B, followed by media at $8.12B. Finally, entertainment at $6.83B, "other" at $5.68B and healthcare and pharma at $3.49B round out the bottom three. As more of the industry becomes digitized, healthcare and pharma in particular have a lot to gain through effective digital strategy.
Insurance marketplaces, for example, are prime targets for digital ad campaigns and offer key performance indicators by which to measure success. Check out how this non-profit health maintenance organization executed a digital strategy to increase engagement with performance indicators including "Apply Online," "Request More Info" and "Call," that resulted in a 42% reduction on their CPL.
For the first time ever in 2019, digital advertising spend will outpace traditional media investment, and the trend is projected to continue across the board. Knowing what your industry plans to spend on digital this year can help inform your strategy, whether you need a way to edge out competitors already embracing digital or have an opportunity to be one of the first to capitalize.
Questions about your own digital strategy? Get in touch below to run your campaign goals by our team of digital marketing technologists!